Index | Contact

BOOK PARTY EVENT ENTERTAINMENT

IN THE NEWS: HOST A CHALLENGE 2017 EVENT
Grace Divine can MC or ENTERTAIN AS A PROFESSIONAL PSYCHIC MEDIUM AT YOUR EVENT!
If you HOST A CHALLENGE 2017 she will DONATE HER SERVICES and ENTERTAIN at your event for FREE!

HIRE GRACE DIVINE TO ENTERTAIN AT YOUR EVENT - FUN AND ENTERTAINING
Grace Divine can entertain in your event.
-She has performed on TV singing, Reality TV as a psychic.
-She also had her own public access TV show for several years where she covered NEWS, art, children, education, weather, etc in Dallas Texas and in Orange County, California.
-In addition, she hosts the RADIO SHOW Grace Divine Opinions every Friday from 9-11am Pacific time. Here, she entertains the public, chats, opines, performs and interviews Guests.
-She has extensive experience LIVE on STAGE performing stand-up comedy, singing, lecturing on multiple topics, teaching, competing and spiritual healing experiences drumming/singing.
-For one year she produced and was Master of Ceremonies for her own LIVE comedy show.
-In addition, for several years she performed LIVE GROUP PSYCHIC READINGS for large groups which include comedy, singing, dancing and role-playing.
-She can also do individual psychic readings where she channels.
-She also speaks several languages.
-And she can write material, including comedic material to suit different occassions, parties ie birthday, wedding as well as professional business events for thousands of people including tradeshows, you name it, she would love to do it.


NEED HELP DECORATING OR STAGING
YOUR PARTY OR EVENT?
Grace Divine has thousands of art pieces that can be used to promote your EVENT GOALS! She has a wide range or genres and styles including florals, landscapes, figurative, modern. In addition, much of her work has to do with HUMANITARIAN CAUSES. Give your party something else to talk about and engage your guests! We can come in and set up the decor for your event to bring in a SPECIAL TOUCH and make it a truly special events.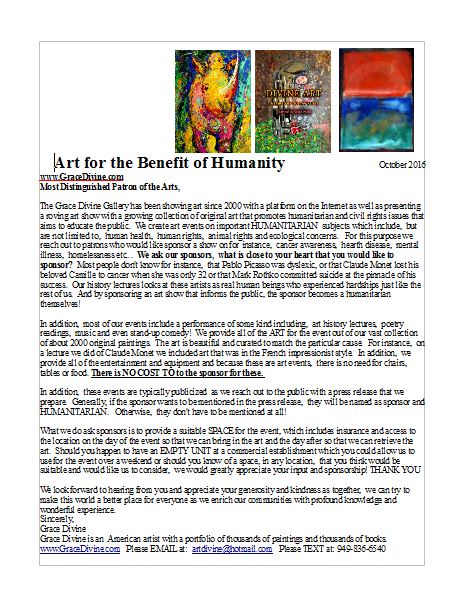 Art Shows for the Benefit of Humanity
October 2016
www.GraceDivine.com
Most Distinguished Patron of the Arts,

The Grace Divine Gallery has been showing art since 2000 with a platform on the Internet as well as presenting a roving art show with a growing collection of original art that promotes humanitarian and civil rights issues that aims to educate the public. We create art events on important HUMANITARIAN subjects which include, but are not limited to, human health, human rights, animal rights and ecological concerns. For this purpose we reach out to patrons who would like sponsor a show on for instance, cancer awareness, hearth disease, mental illness, homelessness etc... We ask our sponsors, what is close to your heart that you would like to sponsor? Most people don't know for instance, that Pablo Picasso was dyslexic, or that Claude Monet lost his beloved Camille to cancer when she was only 32 or that Mark Rothko committed suicide at the pinnacle of his success. Our history lectures looks at these artists as real human beings who experienced hardships just like the rest of us. And by sponsoring an art show that informs the public, the sponsor becomes a humanitarian themselves!

In addition, most of our events include a performance of some kind including, art history lectures, poetry readings, music and even stand-up comedy! We provide all of the ART for the event out of our vast collection of about 2000 original paintings. The art is beautiful and curated to match the particular cause. For instance, on a lecture we did of Claude Monet we included art that was in the French impressionist style. In addition, we provide all of the entertainment and equipment and because these are art events, there is no need for chairs, tables or food. There is NO COST TO to the sponsor for these.

In addition, these events are typically publicized as we reach out to the public with a press release that we prepare. Generally, if the sponsor wants to be mentioned in the press release, they will be named as sponsor and HUMANITARIAN. Otherwise, they don't have to be mentioned at all!

What we do ask sponsors is to provide a suitable SPACE for the event, which includes insurance and access to the location on the day of the event so that we can bring in the art and the day after so that we can retrieve the art. Should you happen to have an EMPTY UNIT at a commercial establishment which you could allow us to use for the event over a weekend or should you know of a space, in any location, that you think would be suitable and would like us to consider, we would greatly appreciate your input and sponsorship! THANK YOU

We look forward to hearing from you and appreciate your generosity and kindness as together, we can try to make this world a better place for everyone as we enrich our communities with profound knowledge and wonderful experience.
Sincerely,
Grace Divine
Grace Divine is an American artist with a portfolio of thousands of paintings and thousands of books. www.GraceDivine.com